Ensuring sustainability across the building lifecycle
Of all materials used in construction, 10% are unnecessary or are wasted, and 30% of all construction work is spent fixing errors. Also, 90% of all large construction projects overrun in terms of time or cost. A construction project that takes just one month longer also consumes an enormous amount of additional energy and electricity.
Energy, resources, and materials can be saved during the construction process, thus making an active contribution to environmental protection. The discussion about more environmentally friendly approaches in the construction industry must therefore be not only about sustainable buildings, but also about sustainable construction. Digital solutions play a decisive role. The industry has so far made too little use of the numerous possibilities that are available.
Digital construction before physical construction saves resources
The BIM Benefits Measurement Methodology from PricewaterhouseCoopers shows that digital construction prior to the physical construction and the use of modeling and virtual reality helps to identify conflicts and incorrect specifications early on in the construction process. This thereby minimizes on-site rework, which in turn reduces energy consumption, carbon emissions, and the amount of building materials used in the actual construction.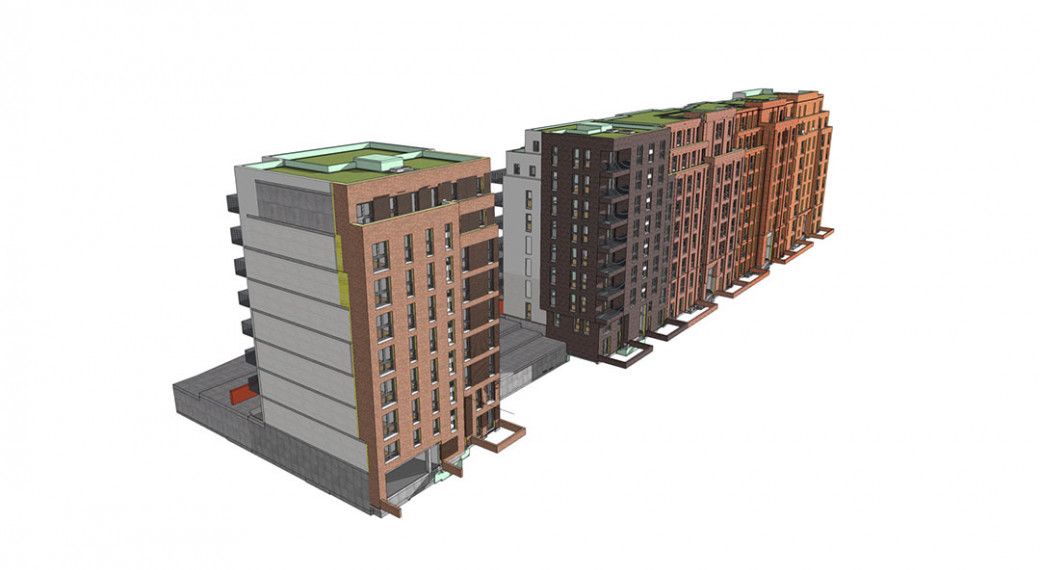 BIM Model KBNK Architects, SonninPark housing Hamburg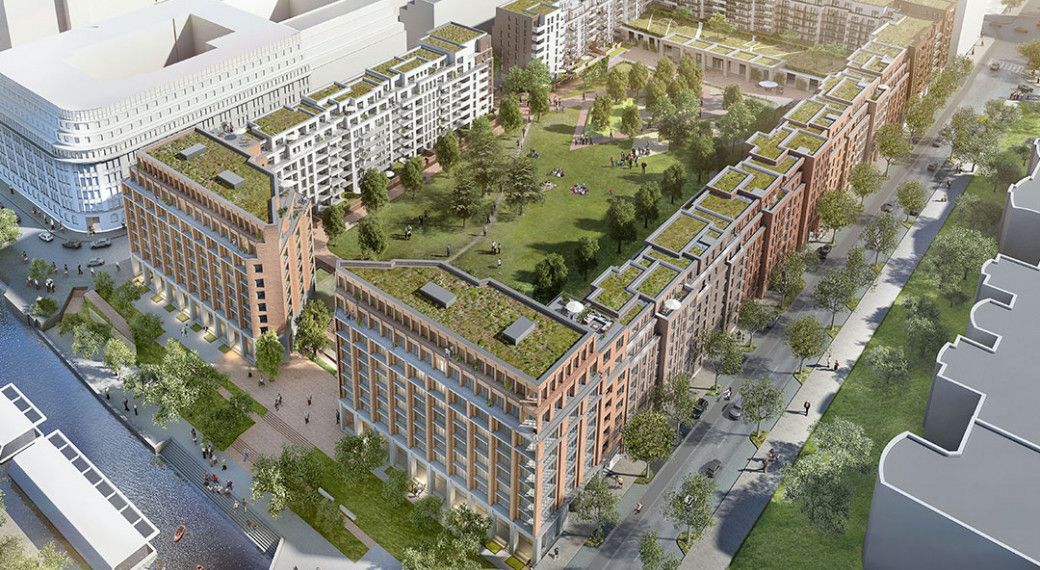 BIM Rendering KBNK Architects, SonninPark housing Hamburg
With BIM or Open BIM solutions, everyone involved can work together accurately, flexibly, and efficiently. Buildings are first built virtually and then in reality. This avoids budget- and resource-intensive errors and defects before the actual construction process begins. In addition, a building can be efficiently demolished even years later because its details are precisely documented. This approach has another important advantage. Currently, many buildings from the 1980s are being converted or dismantled, yet no one knows which materials were used where and in what quantities, and this means that the dismantling process involves enormous effort. For buildings planned with BIM, the materials used are recorded digitally. Furthermore, the demolition process can even be used to extract raw materials. BIM also helps with the management of real estate because it enables rooms to be used more efficiently.
Using digital solutions, models can be checked thoroughly at an early stage in the planning process so that no cost- and material-intensive changes are necessary. Sustainability analyses can also be carried out in this way. For example, customers can use cost and emission factors to color the model as a 3D heat map, helping them understand which parts of the design need to be reworked for sustainability.
Less raw materials, paper and energy
In addition, digital collaboration – especially in the planning phase – allows information and expertise to be shared without having to travel. This also reduces CO2 emissions.
Significant amounts of material can be saved through the precise calculation and better planning of complex structures. In the Gotthard Base Tunnel, for example, a total of 89,000 cubic meters of concrete was saved in the new railroad tunnel by geometrically optimizing the tunnel lining in two sections.
Digital structural analysis solutions can save materials – and time – in the design and construction of steel structures. For example, less concrete can be used for a column, or builders can use another more sustainable material such as wood, as in the Metsä Wood Pavilion in Tokyo. Digital solutions for the planning of precast concrete elements in CAD can significantly reduce the error rate. Customers of Precast Engineering, for example, quote a 60% lower error rate. This considerably reduces the use of materials.
With digital solutions, technical building equipment can also be dimensioned accurately, such as through code-compliant heating and cooling load calculations, or ventilation and heating designs. The corresponding systems are therefore planned neither too large nor too small.
Optimized planning and the improvement of the steel connections in the project can also save large amounts of connecting material. A medical supply center in the USA, for example, saved 25% on screws.
Why continue to rely on vast amounts of paper for drawings and plans on the construction site? The general contractor Premier Mechanical, for example, saves 10,000m² of paper per year by using software on the construction site. That is equivalent to the area of 1.5 soccer fields. In addition, the progress of work can be viewed in real time, and rework or errors are avoided. Companies such as Plumco, a Belgian installation company, claim to use 90% less paper on the construction site by using digital solutions. The old plotter printer is gathering dust in the corner, while digital drawings and plans are shared on computers and tablets and stored in the cloud. Bluebeam has calculated that in 2019, 32 million sheets of paper were saved by using its digital solutions. Otherwise, 3,900 trees would have had to be felled.
Handwritten time and equipment sheets, checklists, forms, acceptance reports, and construction diaries can also be replaced by digital solutions. This optimizes processes and reduces paper consumption to a minimum.
Resources can also be saved in the administration and management of the finished building by making optimum use of space. Integrated Workplace Management Systems can be used to better measure the need for office space. This ensures that only the space that is actually needed is designed, which is another important lever for sustainability. The positive additional effect of this is that employees benefit from a positive working environment, thanks to the right temperature and ventilation which is enabled by smart building solutions.
Even the reuse of raw materials from buildings is possible using BIM solutions. Because of the complete documentation, it is possible to locate exactly which material was used where, even years later. The building thus becomes a supplier of raw materials.
There are many ways to reduce the ecological footprint of the construction industry. All that is required is for the participants to decide to actively contribute to it.
Director Corporate Communication & CSR