Data-driven lifecycle management
Digital twins can play an essential role. But it depends on the type of digital twin: are we talking about a basic form – i.e. a digital copy, model, or simulation of a physical object used to capture information about systems, assets, or processes, which can then be leveraged to optimize the use of the physical object? Or about a true digital twin, which has a real-time connection to the physical twin? This means that changes in the physical twin are reflected in the digital model, typically through extensive use of Internet-of-Things (IoT) devices and sensors.
Ideally, the digital-physical link should be bi-directional, meaning that the digital twin can produce changes in the physical object, with those changes registering back in the virtual copy. If that is the case, the information and implications from each stage of a building lifecycle – whether in terms of cost, durability, or user experience – can be leveraged for other stages. Aggregating information from each stage, across different building owners, and over multiple building lifecycles can help us learn about what the downstream effects of every design or construction choice are likely to be. Ultimately, those lessons can help architects, engineers, and building managers develop and operate better-performing buildings. This knowledge accumulation is known as Building Lifecycle Intelligence™ (BLI).
Practitioners in each stage of the building lifecycle have made enormous progress in collecting and streamlining the use of critical information for their business. However, each time a handover of a model occurs, some amount of information is wasted or corrupted.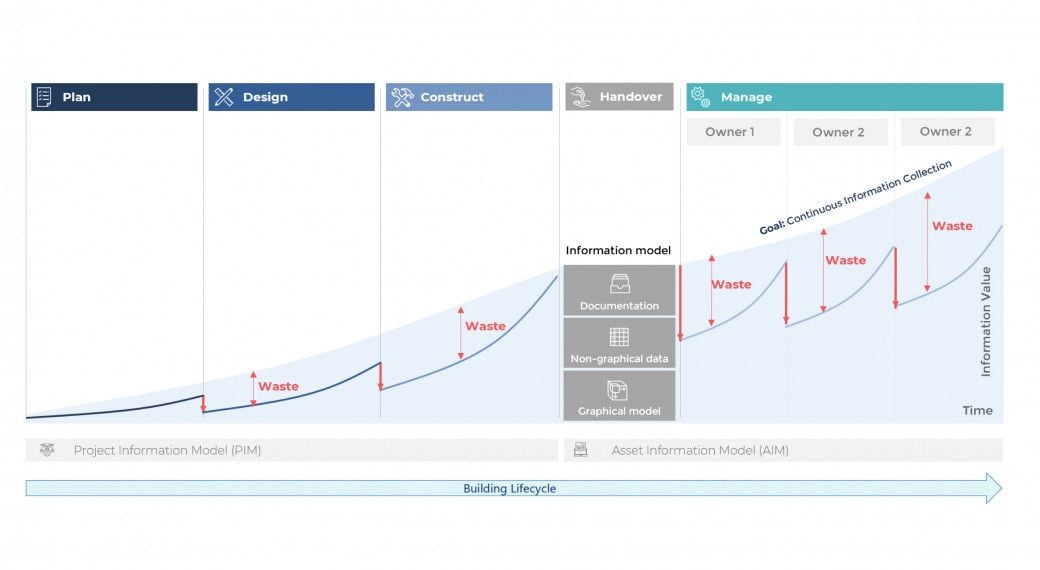 Data Waste during the Building Lifecycle
Perhaps the engineers on the ground cannot secure the exact materials that had been planned in the design stage and make a substitution that is not entered into the model. Maybe a building in the operational stage is sold and only "critical" information is passed on to the new owner.
Instead, if all data were centralized in a "single source of truth" that tracked all of the changes over every phase of the building's lifecycle, and protected and anonymized that data to account for proprietary uses, then the value of the information would be maximized and future planners would benefit from all of the potential insights gained between planning and decommissioning.
The concept of Building Lifecycle Intelligence™ becomes even more exciting when building information also includes sensor data that monitors the actual usage. If a planner has empirical evidence to support the idea that certain types of window configurations lead to more extensive use of a space across decades of building use, then that could inspire future design alterations – and could even justify investment in more expensive design choices. Likewise, if utilization data point to changes in the way common spaces are used, newer buildings could adapt to those patterns, creating a more tailored environment.
Significantly, BLI also addresses one of the inherent challenges in the buildings market: while the costs of construction are borne up front and tend to drive budget calculations, in fact, as much as 80% of a building's lifecycle cost occurs during the operational phase. By driving insights about the long-term operational costs of design choices, we can develop more efficient buildings with lower total lifecycle costs.
This is still true for most projects, but we are seeing this changing. New developments such as the integration of the Bimplus collaboration platform by Allplan with the latest Integrated Workplace Management System (IWMS) release MCS20 by Spacewell, for example, support our vision of BIM-enabled facilities management. The Bimplus solution provides a platform for collaboration using building model data, allowing digital information to be unified across all disciplines along the entire lifecycle of buildings. The BIM working methodology can thus support the entire building life cycle: not only the design and construction phases, but also building operations and facility management (FM).
BIM-enabled FM is still in the early stages, but it forms the basis for sustainable and holistic digitization in the real estate industry. It is a decisive step towards seamlessly connecting the AEC/O industry with end-to-end digital processes. By embedding BIM data into an IWMS while also connecting with the IoT sensors to collect data about building utilization, we are extending the value of BIM beyond design and construction. And we are opening the way to create digital twins that help owners and project teams leverage intelligence throughout the building lifecycle.
Learn more about Building Lifecycle Intelligence in the whitepaper of our brand Spacewell.
Director Corporate Communication & CSR