Back
Wood in all its facets – How urban timber construction can change the image of cities
Wood has the potential to meet the future challenges of the construction industry
The days when wood was primarily perceived as a traditional, rural building material are long gone. "Wood is the new concrete" – only figuratively, of course. After all, analogous to the development of steel and concrete buildings in the 20th century – which revolutionized conventional construction methods to date – wood has the potential to overcome current challenges such as resource scarcity and climate protection.
Wood as a sustainable building material for multi-story buildings has been experiencing a boost, and not just since the recent sustainability debate. This increase makes sense, too, because we need to conserve our resources and massively cut back on the raw materials and energy required to produce conventional building materials in favor of climate protection. Wood promises to be a sustainable alternative to steel and concrete that is not only regionally available and renewable, but also stores CO2. According to a 2019 study by the University of Washington in Seattle, USA, wooden houses can save up to 25% in emissions. However, the origin of the wood as building material, the way the forest is managed, and the often long transport routes have a major impact on the environmental balance.
In addition to the ecological benefits, timber construction also has economic advantages. The range of construction methods, such as solid timber construction, timber panel or timber frame construction, as well as hybrid timber buildings, offers a wide variety of options for responding to site-specific characteristics. Cross-laminated timber in particular is enjoying increasing popularity as a building material – the solid prefabricated wooden elements have good insulating properties, are fireproof, and have good sound insulation properties, as well as a positive influence on people's sense of well-being. Particularly in urban timber construction, the focus is on standardized production with a high degree of prefabrication in the workshop. Where space is tight or the spatial situation does not permit a long construction period, just-in-time delivery of high-quality building elements is a sensible and sustainable solution. This is because wood is lighter than steel with the same load-bearing capacity and has the same compressive strength as concrete. The low thermal conductivity of wood makes it possible to construct the load-bearing structure and the insulating layer in a single layer, which can be the decisive point in cities where space is at a premium.
Stefan Kaufmann, Product Manager BIM-Strategie & New Technologies at Allplan
"Sustainability is one of the major future issues in the design, construction, and management of buildings. Political pressure is growing on the construction industry to create climate-neutral solutions for healthy living spaces. Wood construction could become an important building block in this."
Wood has long since developed into a high-tech building material, even for unusual construction tasks and requirements. At 85.5 meters, the Mjøstårnet in Norway is still the tallest wooden high-rise in the world. But the competition is not sleeping. In Vienna, the Hoho, a 24-story wooden building in the lakeside town of Aspern, has just been completed, and in Toronto, Sydney, Rotterdam, and Berlin, plans are already underway for new landmarks. Instead of glittering glass palaces, a new image of the sustainable urban vertical city is taking shape. The most exciting project is being planned in Tokyo. To mark the 350th anniversary of the Sumitomo Group, a 350-meter-high wooden building with 70 stories called "W350 Plan" is in conception to be built by 2041, which will be a monument to sustainable and ecological timber construction. It will also have its own research institute for practical research on timber construction and includes the reforestation of almost 45,000 hectares of forest area. The whole thing is still a pipe dream. The economic question of the supporting structure currently poses a challenge, as does the handling of earthquake safety – a complex problem in seismically active Japan.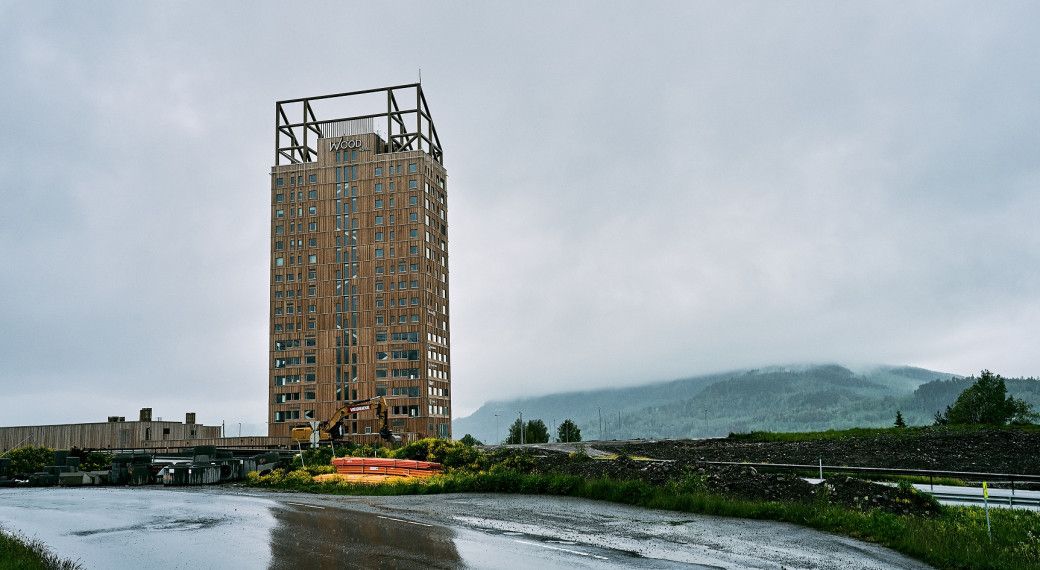 Mjøstårnet in Norway is currently the tallest timber building (c) Øyvind Holmstad v/PermaLiv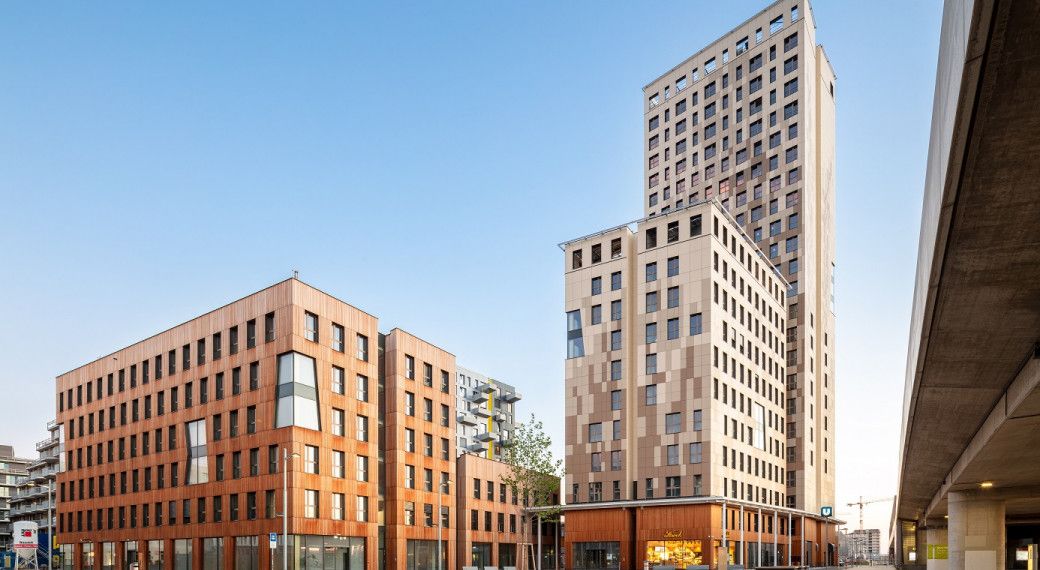 In Vienna, the Hoho in the Seestadt Aspern, a wooden building with 24 floors, was completed (c) DERFRITZ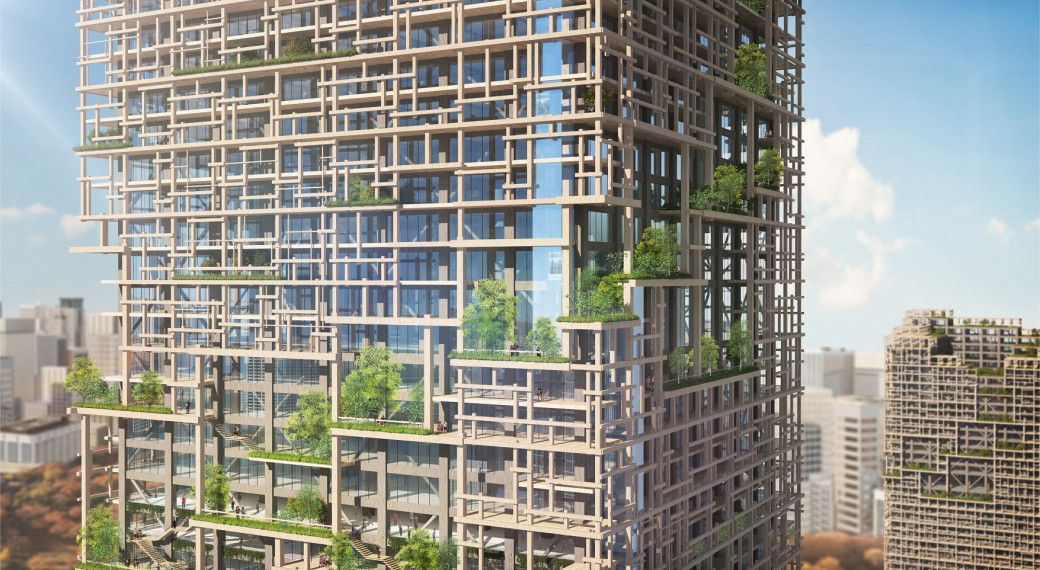 In Japan, a 350 meter high wooden building called "W350 Plan" with 70 floors is in conception until 2041 © SUMITOMO FORESTRY & NIKKEN SEKKEI
Lattkearchitekten, experienced users of the BIM method in timber construction, rely on software solutions from Allplan for their work.
Frank Lattke, timber construction expert
"With Allplan Architecture and Bimplus, we are able to plan even complex timber construction projects in high detail using BIM. This helps us with research projects just as much as with daily activities in the architect's office."
But, without visions, there is no progress. In timber construction, too, the digital transformation requires the rethinking of traditional business models and opens up great opportunities in the process. The high degree of prefabrication and the combination of construction from standard elements offers the perfect conditions for data-driven processes – from planning and prefabrication to the assembly of timber structures. But industrial manufacturing is also of interest, such as robotics, human-machine interaction, cloud-based data management, and Augmented Reality applications. In this context, timber construction benefits from a digitalization lead. Today, for example, 3D data from planning can already be sent directly to production and simulations can be run for construction logistics. However, more innovation is needed for future challenges, such as creating digital tools for communication and information processes, as well as the management of supply chains and deconstruction potential throughout the entire life cycle of a building.
Director Corporate Communication & CSR