Building Lifecycle Intelligence™: The beginning of a journey with a tremendous potential.
But what exactly is data? Data basically represents a collection of facts, whilst information is how those facts are understood in context – organized, structured, accessible, and re-usable by others. Building data follows a data scheme that can be utilized dynamically across different software applications. Non-graphical data can drive the entire value chain. This is what we in the Nemetschek Group call Building Lifecycle Intelligence™. The approach needs an open, connected ecosystem, centered around all data that dynamically connects models and documents. Working in an open cloud environment allows anyone to connect and communicate through open protocols and standards, generating real value for all involved parties.
A very good real life example is Queen's Wharf in Brisbane, Australia, one of the world's largest construction projects. The impressive new district is being developed using software solutions from the Nemetschek Group leveraging a data driven approach.
Queen's Wharf will cover more than 12 hectares across Central Business District land, encompassing 50 new bars, cafes, and restaurants; 2,000 apartments across three residential towers; and more than 1,000 premium hotel rooms. To plan and coordinate the vast amounts of design data, the project team works with digital collaboration. They use Archicad for the design, dRofus for the data management, Solibri Office for model checking, and Bluebeam Revu for the comprehensive digital documentation.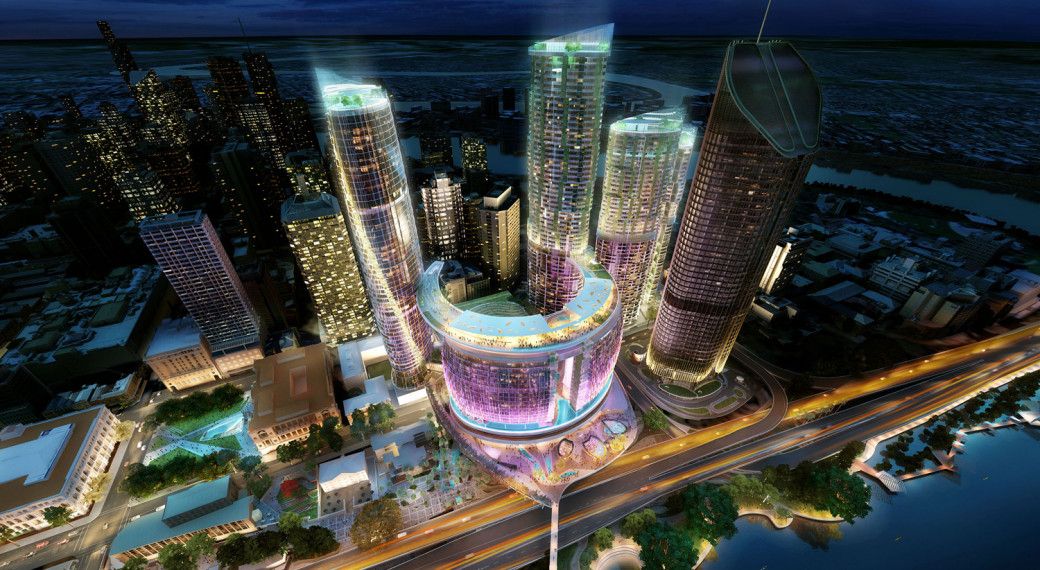 (c) Destination Brisbane Consortium | Cottee Parker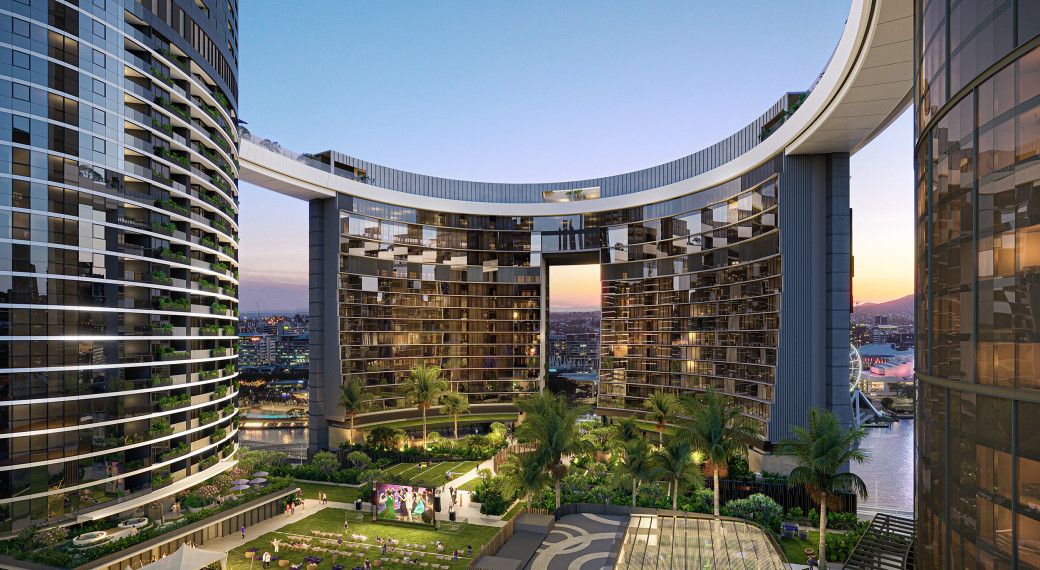 (c) Destination Brisbane Consortium | Cottee Parker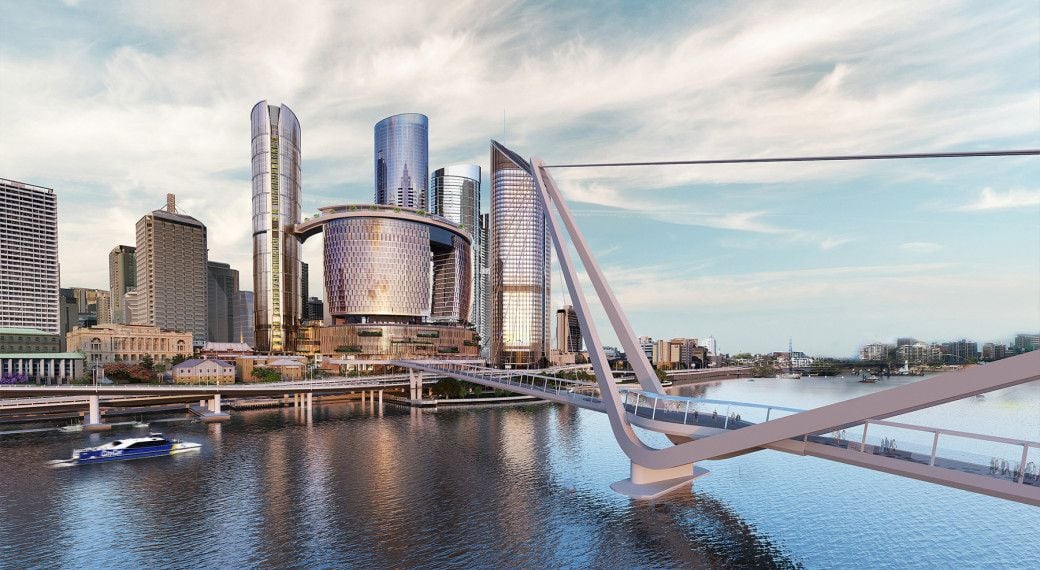 (c) Destination Brisbane Consortium | Cottee Parker
Leveraging a BIM approach with a focus on the "I", in this project of immense scale and complexity and innumerable levels of information, the team organizes all of the project's key information in an easy-to-access, central place. With the planning and data management tool dRofus, a broader team is able to process the relevant data and consolidate the large amounts of information coming in from multiple sources, also including team members who are not trained on the professional applications.
A shared and continually updated data source across all disciplines enables true collaboration between all stakeholders and it is a real game changer. Another great example is the Glasblokkene Project in Bergen in Norway. The completely digitalized hospital construction project perfectly demonstrates this new way of working. The project teams again use the planning and data management tool dRofus to maximize collaboration and efficiency: It is the single source of truth for the entire project, from early planning through to the construction and handover, and into operation. As the Master Asset Database for all disciplines, it synchronizes with the models – always up to date and always available to all stakeholders. The results are significant savings, better control, and substantially better outcomes.
In this project in Bergen, product documentation was collected, controlled, and stored in dRofus before the construction started. None of the stakeholders had to go looking for information in different places throughout the project. Reducing the production of PDFs in the project by enabling contractors to update the BIM model and the dRofus database directly on site proved to be a substantial time saver.
Building Lifecycle Intelligence™ is much broader, with a central data management solution like dRofus playing a vital role. The aim to significantly increase efficiency through data-driven processes across the entire building lifecycle and based on open standards drives us at the Nemetschek Group. Our solutions – such as Archicad, Allplan Bimplus, Solibri, and Spacewell – paired with dRofus can deliver considerable benefits for the users. dRofus is the link and secures the golden thread for the Common Data Environment and the standardization of project-unique IDs and classifications. Our approach enables efficient cross-discipline coordination down to the smallest details through connections between all systems from all models within the database.
Building owners, architects, engineers, contractors, and facility managers basically all face similar challenges with the current model-driven BIM processes: Different professions work according to modelling standards that best fits to their expected deliveries and contractual duties. As a result, the same information is modeled many times, but from different aspects. Similarly, when handing over models from one project stage to the next, data loss occurs. Consequently, with a model-driven approach, creating and managing information inside the models is a) creating silos, b) means we assign critical information to models which have a limited time span, and c) is limiting access to those stakeholders who have competences on the given authoring tool.
A data-driven approach solves all the issues above. If we separate the physical storage of geometry and information, keeping all relevant data throughout the building lifecycle in a central database, all stakeholders can enrich the model with information, visible for all project team members. Stored on a cloud server, any BIM tools can sync to the central database. This ensures consistency and longevity of information up and until the management of the facility. The benefits: seamless cross-discipline data aggregation and collaboration for the full building lifecycle. In detail, this means that the metadata attached to objects is maintained and updated throughout the planning, design, construction and operational phases. With a data-driven design approach, this information is generated in a structured, consistent format, and is easily accessible by the facility manager. Perfectly usable for any renovation works, for example.
In return, the data and intelligence that is created during the operation phase of a building – we are talking about 30 years or more, in many cases – can be reused when planning and designing the next building. We just need to look at the construction industry as a perpetual loop, not only when it comes to the reuse of materials (circular economy), but also when it comes to the reuse of data. Having access to the entire set of "intelligence" is key to optimizing operations and to driving better decisions in the next project or project phase. With Building Lifecycle Intelligence™, we are at the beginning of an exciting journey towards increasing efficiency and quality. A journey with a tremendous potential.
Director Corporate Communication & CSR